NBB director Inge Huitinga appointed professor at the University of Amsterdam
1 april 2019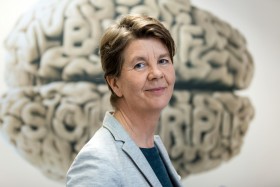 Dr I. Huitinga (1960) has been named professor by special appointment of Neuroimmunology, specialising in the pathology of multiple sclerosis, at the University of Amsterdam (UvA)'s Faculty of Science. The chair is an initiative of the Netherlands Institute for Neuroscience (NIN-KNAW) at the behest of the Dutch MS Research Foundation. Huitinga will combine her chair with the position of director of the Netherlands Brain Bank and Neuroimmunology group leader at the Netherlands Institute for Neuroscience.
Inge Huitinga studies immunological responses in the brain, with a special focus on multiple sclerosis (MS). Using tissue provided by donors to the Netherlands Brain Bank, her group studies the molecular and cellular factors underlying multiple sclerosis. The research revolves around how MS inflammatory lesions differ between patients, and how these differences are connected to differences in the course of the disease, hormones, gender and hereditary features. Huitinga also focuses on finding starting points of MS lesions in the brain for developing treatments to prevent the development of MS inflammation and to end the disease.
As a professor, Huitinga will be studying the interaction between neurons, microglia and T lymphocytes in two types of clinical pictures: MS as a well-known inflammatory disease of the brain, and psychiatric disorders in which the role of the immune system is in the process of being described but remains as yet unclear, such as depression, bipolar disorder and schizophrenia. In addition, she will be teaching the new generation of students and future researchers about the latest insights in the field of neuroimmunology.
About Inge Huitinga
Huitinga has been working at the Netherlands Institute for Neuroscience since 1996. In 2006 she was appointed director of the Netherlands Brain Bank and leader of the Neuroimmunology research group. Huitinga teaches Bachelor's and Master's students at the UvA, VUmc, Erasmus MC and UMCG. She also acts as supervisor and co-supervisor for various doctoral research projects. Huitinga studied biology at Vrije Universiteit Amsterdam, and obtained a doctorate from VUmc with a thesis on a neuroimmunological topic.
Between 2012 and 2017, Huitinga led a major project financed by the Netherlands Organisation for Scientific Research to initiate a brain bank for psychiatric disorders. In the past decade, she has acquired many major grants and has published in various leading journals.
This article was originally published on the Proffesorial Appointments page of the University of Amsterdam.